Who We Are
Painting Contractor
Hiring a professional and reliable painting company takes the stress out for your home painting, plus you save time and money. Finding the right painting contractor can be overwhelming in Toronto. It is an important decision and requires careful consideration. Giving a proper quotation is an important part of the deal to make sure about the quality of the painting service you will receive.
C&S Painting has been taking care of hardest exterior projects with expert exterior painters crew. We are specialized at difficult to reach , extremely high exteriors and spraying  as a well equipped and fully insured painting contractor. We are confident in offering competitive prices because of directly hiring skilled painters toronto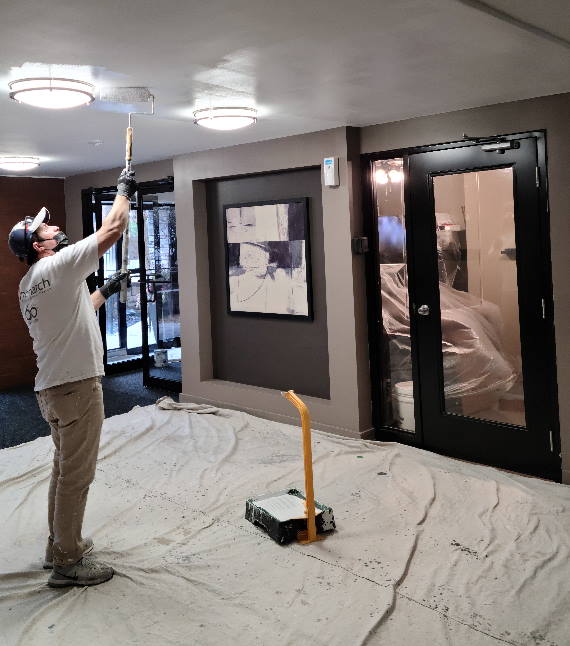 Who We Are
Professional Painters Toronto
C&S Painting has been serving the Greater Toronto Area since 2000. We are Toronto based local painters specializing in both commercial and residential painting services and cabinet spraying.
C&S Painting offers a wide range of painting services such as residential, commercial/industrial, cabinet & kitchen cabinet painting, as well as interior and exterior painting for both condos and houses. We are sure about our competitive prices, that's why we have a price match guarantee.In Toronto painters mostly subcontract painting projects. We principally don't work as subcontractors!
Commercial Painting Services

Industrial Painting Services

Residential Painting Services
What We Offer
We Help You For Made Your Dream Painting
Company Statistics
Low Cost Painting

Almost every painting company in Toronto claims they offer cheap painting services, some claim they are the best. There are different factors make a professional painting company trustworthy; having proper business insurance, having strong references, being in the business for many years, this is more valuable than empty words.
We are open to discussion when you have a couple written estimates with all details provided

We are ready to answer your questions about your painting needs.
Read more




Benjamin Moore Colors and RGB colors
Our Testimonials
What Our Clients Say About Us
I have been using the same kitchen cabinet color for 10 years. Now it was necessary to change. Finally, I met and agreed with this company. They came and painted my kitchen cabinets. It was a very friendly team and they did quality work at a very affordable price. I would like to thank everyone in the team one by one, I recommend it to everyone.
C. H.
I thought I'd paint the exterior paint of my house in the village without spending too much money, but I messed up. I contacted here with good advice from my relatives and they came and saved my house I think they are doing very well. It is recommended.
L. H.
We decided to paint the rooms of our old house. They randomly came across on the internet, I reached out and they painted all the rooms of my house in a very short time like 3 days. Honestly, I didn't expect them to work so cleanly. You can safely get paint jobs done.
I. G.
Do not call any other company. They worked on my black walls, which I hadn't painted for years because I couldn't handle them, at a very affordable price and so clean that not a single drop of paint would splash around after the job was done. They are truly good at job.
H. G.
We opened a new office. We kept in touch with this company frequently for our office, they did all our work completely and in detail. We were really satisfied. Most importantly, it is a company that does its job diligently. If a wall doesn't fit for them, they try to do it in the best way possible. You can rely on highly skilled toronto painters to deliver you the best quality. Thanks a lot.
C. T.
Make An Appointment
Need Any Helps For
Dream Painting
News & Blog
Our Latest News Blog Articles & Tips