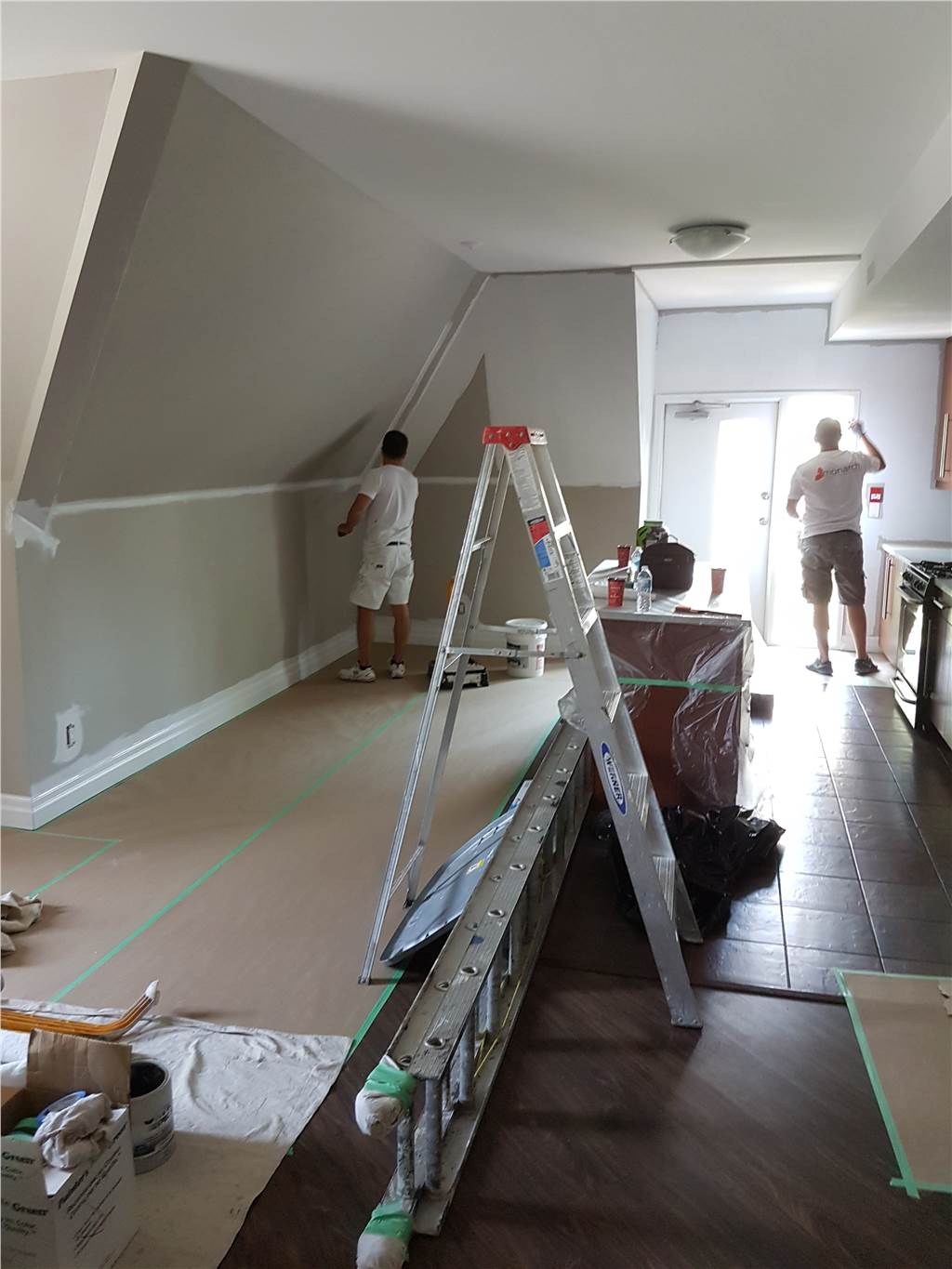 Complete Guide of Painting
Painting can be a good hobby for many people. Painting your own room , hallway , staircase , kitchen , washroom or even the whole house / condo can be a DIY (do it yourself) project for everyone. Obviously painting can be done by someone who has two hands. Being well prepared , having proper and good quality tools and paint is the key for a successful painting project.
We witnessed many failed and messed up painting jobs during 25+ years experience. Some messed up by amateur painters hired by home-ownwers , some cases were the failure of home-owners. When a place has a messy / bad painting job done, it is very difficult. Let's try to explain what a messy / bad painting job is. When you look at the painted surfaces ( walls , ceilings , doors) against the light , painting mistakes will appear. The paint texture looks cheap / rough , some dirt in the finish ,roller stroke lines or brush marks will be noticable , or the finish won't look solidly / evenly covering the surface,in many cases you can see the older color is noticeable under.
For a successful painting project there are necessary steps to take. We will explain them one by one. Skipping one of these steps or not following the right order will make you fail.
STEP-1 : Deciding on the paint color / brand name of the paint / sheen and type of the paint
For a professional painting company , painting in different colors requires the same process apart from some extreme cases (transparent colors, extremely dark or bright colors). Our mission is to achieve applying the paint colors you desire successfully.
When our opinion is asked about color consultancy we mostly share trendy interior designer colors with them. We never try to convince a client about the paint color. Because everybody has different tastes about the colors. We have to warn the customer about the actual paint color might look different on the walls than they imagine. The lights, reflections from the furniture / floor will make the paint color look very different in different environments.
In time people change their preferences about their priorities. In the past people were focusing on having stronger (washable) paint and they were giving less importance to look. It means washability was more important than elegant look. Shinier paint has more washability than mat (flat) paint. You can wipe shiny paint ( eggshell, satin, semi gloss) with a damp cloth gently when you want to remove a weak mark on the wall surface. You can't use chemicals or force too much. If we use flat(mat) paint, we can't wipe it when it gets dirty. Shiny paint sheens can not be touched up easily. If you need to touch up shiny paint , it will be noticeable. Opposite of shiny paint , flat (mat) paint can be touched up easily. Flat (mat) paint gives you the most elegant look.
Recent years most of the nation wide paint manufacturers started to manufacture a new sheen as interior paint , it is called LowSheen (Low Luster). It is a sheen between Flat and Eggshell. LowSheen has some advantages and disadvantages from flat and shiny paint. Low Sheen paint is less washable than eggshell but has a better look. If a client wants more washable paint than Flat we encourage them to use LowSheen paint rather than Eggshell paint. Flat paint and LowSheen paint is easy to touch up and it won't be noticeable.
STEP-2 : Providing necessary supplies , tools and equipment
We are giving you the full list of necessary supply and tools list
4" putty knife and 6" putty knife
Fast drying drywall compound (20 minutes in green package)
100 grit sandpaper and and sander pad ( You can also use sand block for smaller jobs)
Roller frame
Extension pole (2' to 4' long)
15mm to 18mm thickness microfiber roller
2.5" wide angle brush ( good quality)
Drop clothes , floor covering paper , light duty plastic sheets (in large planks)
Green masking tape for floor covering , blue tape for detail masking
Paint tray ( and carrying handle , snapping onto tray for easily carrying around)
Paint tray liner ( you can change when switch to a different color paint)
Cleaning rags and cleaning tools ( broom , vacuum , garbage bags, etc..)
STEP-3 : You need to empty the space as much as you can. Keeping furniture in the middle of the room is the best option. If you have a chance to empty the area completely , it is the best option. You will need 3 feet of space from each wall to work around comfortably.
If you need to paint only the walls , you need to lay down floor covering paper by the walls and attach them by using green masking tape on the edges. Green masking tape should be removed from the floor no later than a week. Otherwise it will mark the floor with glue. It is recommended that the center part of the floor should be covered with masking paper, if you will paint the ceiling too. Using drop clothes for masking the floor can be an option too but not recommended. You need to cover all the furniture and light fixtures with plastic sheets to avoid dust. After masking and covering is done, we can start patching and painting steps.
STEP-4 : Patching priming and painting
Removing unwanted nails, screws, shelves, etc is needed first. You need to use fast drying compound powder by mixing water to patch the holes and leveling the surface imperfections. 4" and 6" putty knives will help you to spread a necessary thickness of compound mixture on the surface. When the compound is completely dried and ready to sand. You can sand and smoothen the patches. Spot priming is highly recommended especially if you are using shiny paint as a finish coat. Applying a good quality latex primer on the patches will seal and hide the patched spots.
You can start rolling the paint with a roller on a wider surface by deeping it in the paint tray. Make sure you are spreading enough quantity of paint evenly not to make a rough texture. You need to use the brush to make the edges where the roller can't access. 2 coats of paint is highly recommended for a solid coverage.
STEP-5 : Removing masking paper and cleaning
After painting is completed and dried completely , you can start removing the covering and masking plastic / paper. Try to keep the dust in the masking paper / plastic to avoid spreading around.
Time to enjoy the result. You can find a detailed instruction about `` How to cover dark colors" and " How to paint over oil paint with latex paint" in other articles. Please check our Blog section on our website.
C&S Painting has been offering reliable professional painting services since 2000. If you have a profession to make a living , letting a professional painting company take care of your painting project is the best option.
We are ready to provide a free no-obligation on-site estimate by giving you all the breakdown in a formal quotation. We offer competitive rates , fully insured and bonded. C&S Painting is a family owned business , not a franchised corporation. We make our deals directly with customers , never work as a subcontractor , or hire subcontractors. That's why we can offer very competitive rates and we have a great reputation.
Please feel free to call us or send a message.