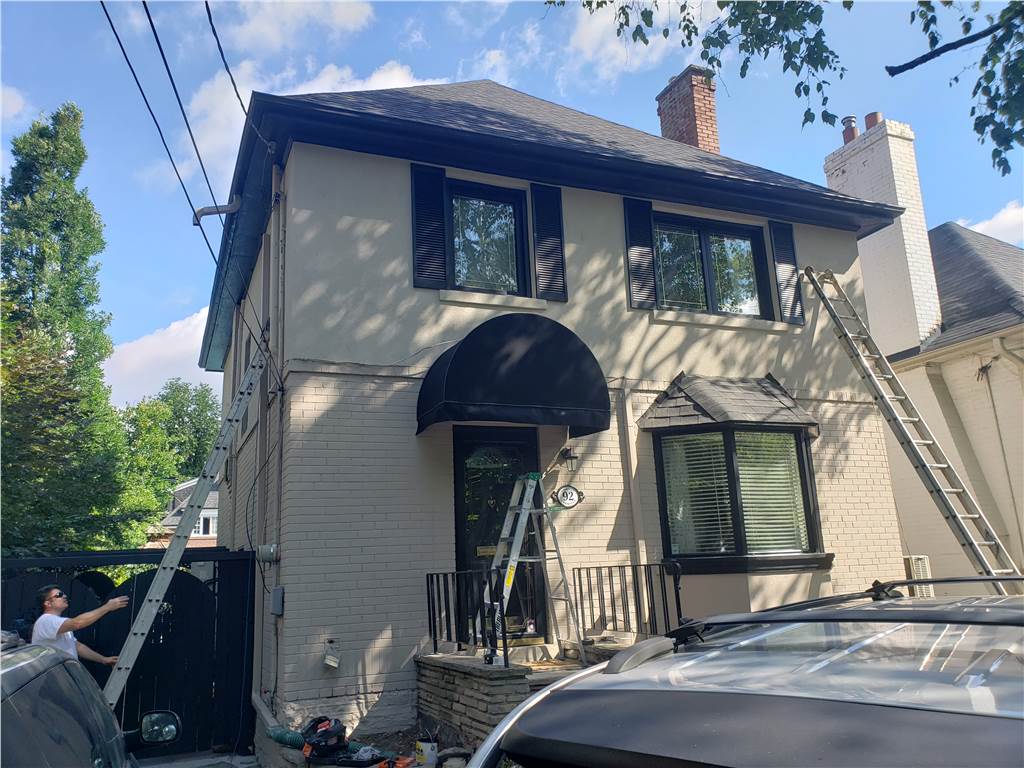 Eaves / Eavestrough / Gutter Cleaning And Maintenance Guide
We are giving you tips , maintenance techniques for cleaning your eaves. Before making up your mind doing it yourself (DIY) , you should be aware of the risks you are taking. We are not trying to discourage you , as a professional painter who has been taking care of the toughest exterior painting projects , climbing up on an extension ladder is risky. Being experimental is not always ending happily.
When you observe wet exterior walls or overflow from the eaves through , it is the signal they need attention.
How often eavestrough should be cleaned ?
It depends on the surroundings of your house exterior. With many trees and leaves falling into the eaves and clogging them and downspouts shortens the periods of cleaning time. The type of the trees and the leaves will also make a difference about how soon your eaves need cleaning. For example pine trees and maple trees have different types of leaves and have different bad effects.
Ignoring regular maintenance on your eaves will cause chronicle problems and you might need to replace them partially or completely. Damaged eaves might threaten the exterior parts of your home and landscaping , delaying the maintenance will grow the cost like a snowball.
-Avoiding eaves to get clogged and not to go prematurely is the best choice
There are several contractors in Toronto offering eaves covering ( cap ) services. They install aluminum or plastic mesh screens to cap and cover eaves. This method prevents eaves from getting clogged easily. It doesn't mean it is a lifetime solution , just delaying maintenance periods.
-Tips for Performing a safe cleaning /maintenance
Climbing heights requires extra safety concerns to avoid a fall. Having professional safety equipment / professional grade extension ladders is mandatory to keep safe.
Leaning against a surface with an extension ladder without someone securing at the bottom is not recommended. It means you must be at least two people.
The surface you are leaning against with the extension ladder must be strong enough to carry your weight and not to get damaged because of the pressure. Finding the right spot and the angle to lean is a skill gained by experience.
Electric wires running through can put you in danger while you are carrying the extension ladder around. Watching the tree branches and the wires will make you avoid an electric shock or injury.
When you climb up , you should wear cut resistant gloves to grab the dirt in the eaves. Using a metal rod to dig the clogged parts of downspouts might be needed. You should have a plastic bag to keep all the dirt and leaves will help you to carry them down safely.
A power drill , some screws and a metal line to fix the loose parts and replacing older screws can be a good idea.
-Signals shows that time to replace eaves
There are several signals to look out observing the eaves have more than normal wear and tear. Maintaining and cleaning every next year will make the eaves last longer but when you observe these signals better to replace them.
? Eaves to have a saggy look or begun to pull away from the exterior house surfaces.
? Observing wetness and signs of mildew around your home's exterior and basement.
? Noticeable erosion in your garden and landscaping.
? Seeing rusty , peeling paint or stain on or around your eaves.
C&S Painting has been serving the Greater Toronto Area (GTA) since 2000.
We offer interior, exterior painting services for both residential and commercial properties. We are insured and WSIB registered.
Please call / message us for a no obligation , free consultation.