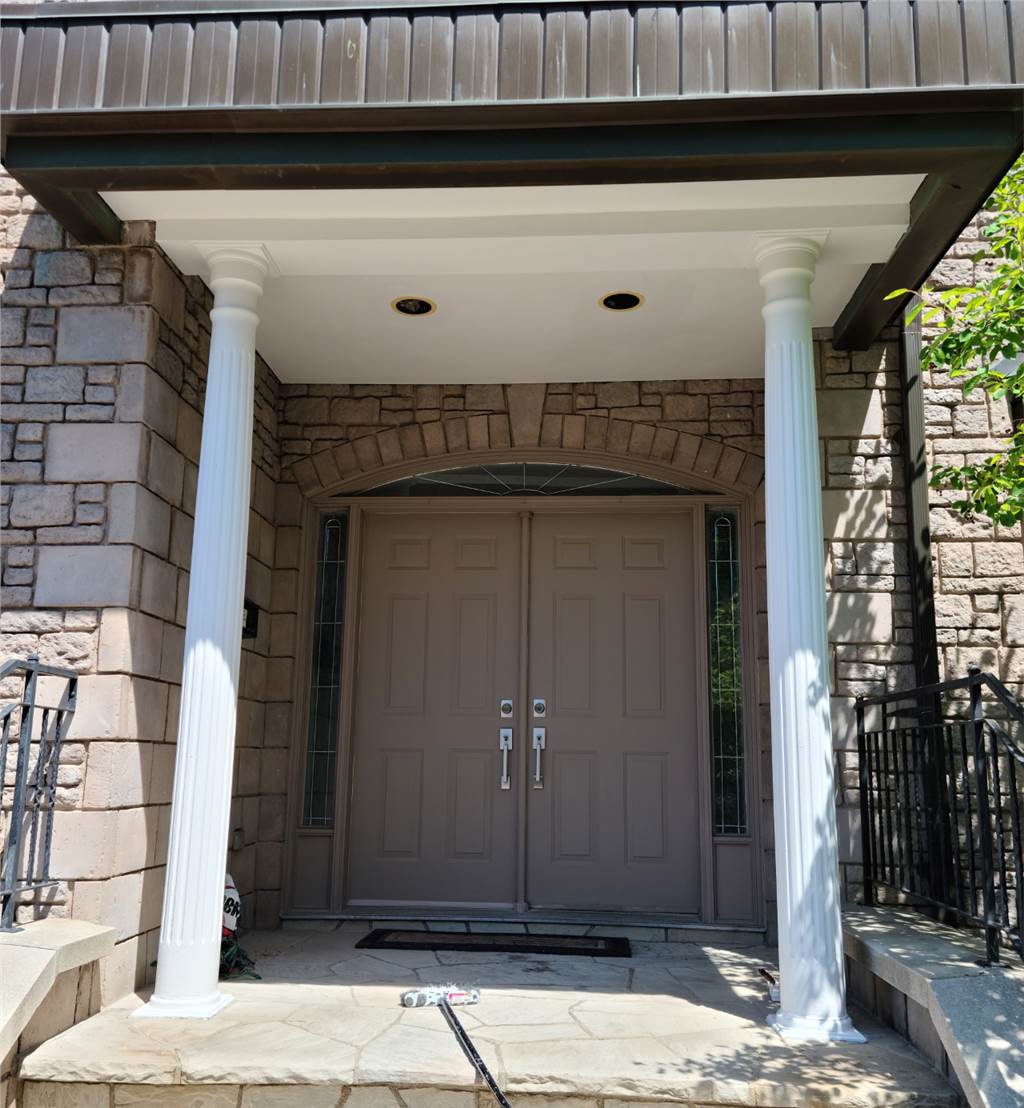 Having An Accent Color On Your Entrance Door / Trendy Front Door Colors
Front door is the first thing gets attention when you are entering home. It can be small but effective way to refresh your entrance area by changing the front door color. It is a good refreshment for your home in a small and affordable way. Many homeowners even consider replacing the entrance door even if it is solid. We highly recommend getting it painted professionally if it is still in solid condition. Replacing a solid door just for the outdated look will ruin your money. Even if the entrance door has some surface issues and imperfections , it can be saved by a professional painter with a good preparation work.
We will try to give you some ideas about trendy front door colors in this article.
Picking up the right color for your front door
Taking a picture of the front of your house and looking at it from a distance will make you aware of all the colors in front of your house exterior. Brick / stucco / siding color , window trims , porch , your front yard and garden colors will guide you which color will fit in this picture. Your front door can be a really dark color to have a strong contrast . Or it can be a bright color which is completely opposite of the surrounding colors. It can be a good idea to carry your interior color to your front door but it should be at least 3 or 4 level darker shades of interior colors.
Keeping the garage doors and the front entrance will be better in many cases. It is a common belief keeping garage doors and entrance doors the same color but it will give a simple look to the front of your house.
Seeing the actual paint samples on your front door
There are a couple ways to see the color samples on your door before making up your mind about which color will be the best option for your front door. You can get a couple different color samples from a local paint store and apply them to the center part of the front door. You should be using a good quality brush, a small / smooth roller a couple rounds without making texture or overloading the paint. You should wait at least 30 minutes between the coats and repeat it for two or three rounds. It must be done carefully because if you don't do it properly , it can be difficult to fix later on.
If you don't believe in your painting skills , you can use a piece of wood or a small plank of drywall to apply the sample paint colors on them. Then you can locate those painted pieces next to your door and see if it fits well with the surroundings too.
Using a software / app to apply different colors to your front door
High technology gives us opportunities to virtualize many things. We have been using some applications on our cellphones or you can find websites ( paint manufacturers' ) that let you upload the picture of your home and apply some sample colors on it. We encourage you to make real color samples by applying paint on the surfaces to see with the light and reflection. Because the light and reflections of surroundings will make a paint color look very different.
Choosing an front door color for a resale home
Homeowners prefer getting their houses painted before advertising. Painting a resale home will add value on the property and will attract the buyers. When you are getting a resale home painted , avoiding extreme paint colors are important. Everybody has a different taste about paint colors for their living environment but going with neutral paint colors will be the best option for a resale home.
Painting front door exterior in dark colors
BLACK : Painting in black can be a good option if you mostly have light gray shades or off white shades in your house exterior surfaces
NAVY : Using navy color shades can be an option if you find black color liveless. A deep navy color with some sheen will give you a feeling it has some live in it.
CHARCOAL : Dark charcoal colors are commonly used to match the front door color with roof , window trims or having contrast with off white shades in the other parts of exteriors.
RED : A deep and bright red color will give a stunning look on your front entrance door. In many cases a special primer is required to cover it evenly. We recommend you to go with your local paint dealer's recommendations.
We know exterior painting has to be done certain parts of the year in Toronto because of the extreme weather conditions. There are not many professional painting companies specializing in exterior painting. Painting an exterior door doesn't look hard to do on your own as a DIY project. Sometimes it can be necessary when most of the painting companies are busy during summer season and difficult to find a good one.
That's why we have many articles in the Blog section on our website to give you all necessary information about painting and DIY ( do it yourself ) techniques.
C&S Painting has been serving The Greater Toronto Area ( GTA ) since 2000. We directly hire professional painters , we don't subcontract.
Please don't hesitate to call / message us for your painting needs , it doesn't matter if you have a small or painting project. We will try to help you with our best effort.