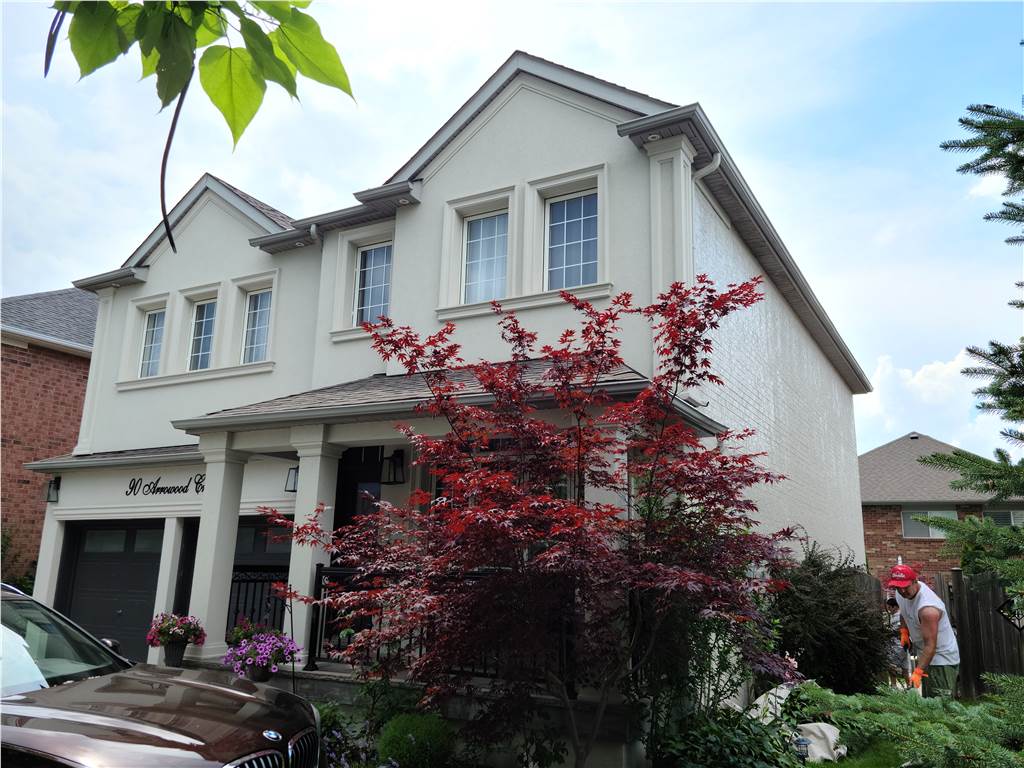 How Beneficial Is Cleaning The Exterior Of Your House With Powerwash ?
In the Greater Toronto Area , house exteriors are exposed to emission, dust and dirt. The weather conditions are another reason home exteriors have wear and tear in time. Majority of Torontonians ignore the exterior surfaces and don't maintain them regularly. For this reason , some house exteriors go prematurely. Power washing the exterior of your house can help you to observe if there is any surface issue.
We will go over the important technical details and benefits of power washing. It will make you be aware of do's and don'ts.
I- What kind of power washer you need to use
You need to use a gas operated and automatic pressure controlled power washer. Electric operated power washers under 3000 psi won't provide enough pressure to penetrate the surface to remove the dirt in the grains and in the texture.
II- Can power washing remove dirt and mildew on the exterior surfaces
Yes. If you are using a gas operated professional grade , it will remove the dirt and mildew on the surface. A strong power washer will remove it all. In some cases , the ivy plant was removed with power washer completely , without leaving any marks from stucco and brick exteriors. You need to be extra careful when you are operating a strong power washer , not to damage the surface or surroundings. You must be aware of the electric wires or any electric equipment that can cause a short circuit.
III- Power Washing a very dirty house exterior stucco might change your opinion to get it painted. It might come out as brand new. Even if you believe getting exterior stucco painted over, power washing before painting will improve the quality of the finish and also the life of the paint.
IV- Removing the old , peeling paint / stain before applying the coats
The exterior of your house is getting wear and tear in time. The wood exterior surfaces such as wood shingles , wood siding , fences and wood deck will get covered with dust and dirt . Old paint on wood surfaces will start peeling in time. Sanding it all the way to the wood grain can be an option but the gaps can't be reached by sanding. Sanding the wood surfaces will require a detailed and costly process but still not good enough. Power washing wood exterior parts of your house will be an easy way to remove the peeling paint. After power washing , you can make a detailed inspection to see if the surface is clean enough and free of peeling paint to apply the coats. Scuff sanding is recommended before applying the coats.
C&S Painting has been serving the Greater Toronto Area since 2000.
We are insured and WSIB registered. C&S Painting is a family operated business , not a franchise. That's how we ensure our competitive prices. We do the work with our directly hired professional painters crew.
We took care of many signature exterior projects and disaster recovery cases. We offer a 2 years warranty on labor for every exterior painting project. C&S Painting uses high quality 100% acrylic , brand name exterior paint products. These paint products come with a 15 years manufacturer's warranty on them. We have been observing the exteriors we painted in the last 20+ years. There are several cases that have been lasting more than 15 years already.
Working in heights can be scary and overwhelming for even professional painting companies. It is one of our expertise to take care of extremely high and difficult to reach exteriors.
Please call / message us for a free , no obligation estimate.