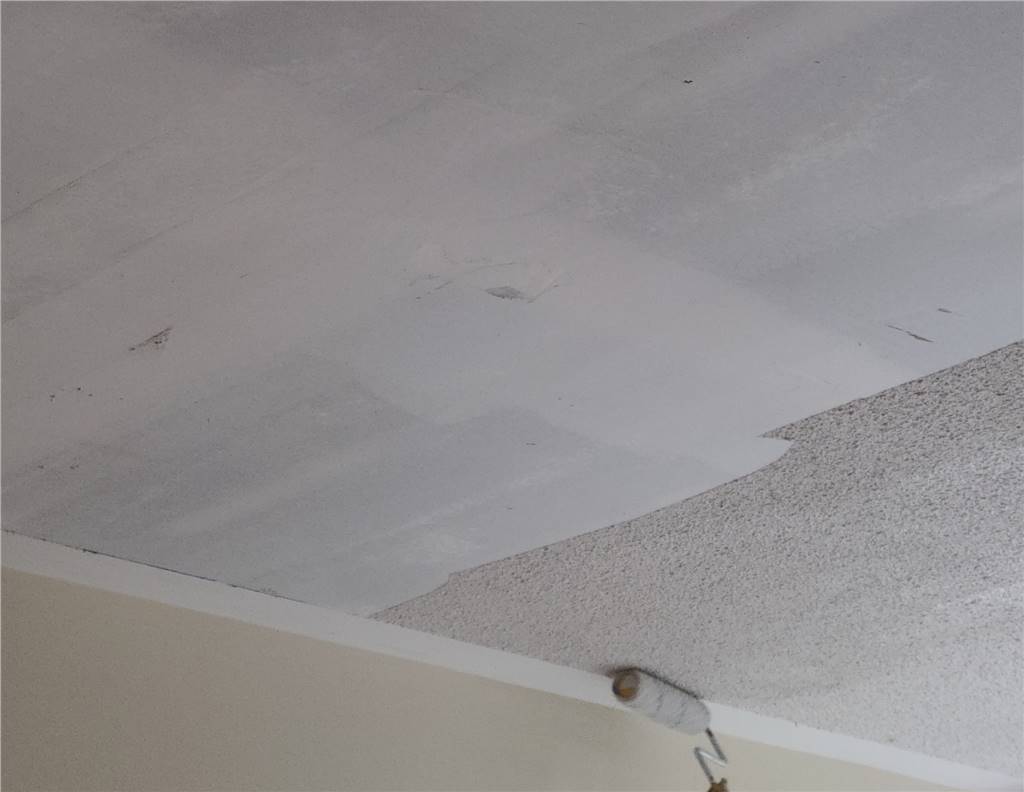 How Can I Remove Stucco Ceiling?
How to scrape popcorn / stucco ceiling texture with putty knife?
INTRODUCTION: It is important to remove the stucco / popcorn texture properly without damaging the surface. Because damaged spots and scratches has to be plastered and sanded necessarily. It is very easy to damage a damp and softened drywall surface while removing popcorn ceiling texture with a putty knife. That's why certain softness and dampness is required to minimise the risk of damaging the surface. Less damage means less preparation before painting the ceiling surface. Using professional and proper size putty knives is important. Based on this, here is a guide on scraping plaster with a putty knife.
WHAT YOU NEED:
Narrow putty knife

Wide putty knife

Masking materials (plastic sheets, masking paper)

Compound

Sand paper

Sealer

Paint
CHOOSE PUTTY KNIFE:
Often small but also medium size putty knives are used on moisted stucco / popcorn ceiling textures to remove them easily. Deciding which is the ideal size of putty knife is matter of experience and depends on the case.
START WITH SCRAPING:
At this point, you can start with scraping, which in itself is not complicated at all; in fact, when the water produced by the moisture evaporates, it tends to increase the volume of the plaster and cause it to separate from the surface. Then start with the large putty knife starting from the swelling points and then tapping the tips used to continue with the wide part of the tools. Scraping should continue until the swollen part meets a well-fixed plaster and should not tend to fall off. At this point, the process is carried out on other parts of the crumbling plaster, using the smallest size putty knife so that the area is even thinner.
FINISH THE PLASTER WITH A NARROW putty knife:
To optimize the work, we now proceed with a correspondence stage, which gives us a smooth and silky surface, and then is ready for the application of a sealer and wall paint first. The texture should obviously be specific to moisture and therefore damp. At the end of the work, the surface looks neat and smoother. However, if you still notice a few of them with the brush, it is recommended to refine the plaster better, using a narrow blade and a spatula with a smaller thickness, before proceeding to the second coat of plastering.
Why Painting your condo / house / office Is Important?
Wall paint can often be seen as an the easiest way to face lift when walls are dirty. But you should not forget that you can give your home a new style thanks to stunningpaint colors. This is exactly why painting has an important place in order to decorate the house you will move to in accordance with your taste or to add an upgrade to the house you live in. Unfortunately wall painting can be more difficult than you think and cause you to get frustrated if you try to do it yourself. But thanks to painting companies, it is very easy. In a short time, you can quickly have your living space, home or workplace painted. The service provided by professional painting companies allows you to have a fast and flawless apappearance.
Painting For Home
One of the easiest ways to make changes in home decoration and add modern and stunning colors to the living space: painting for house. House painting can be done both to provide hygiene and to add color to your life. There are some points that you should pay attention to preparation before the house painting process. First, it is important to choose a nice color. The second is to choose a reliable painting company.
What Should You Consider When Deciding on House Painting Colors?
Very likely you want to decorate the walls of the living area with your favorite colors. You will be able to rearrange the whole decoration according to the wall color choices you will make. However, this may cost you a lot money. Best of all, take care to choose colors by considering the prominent colors, patterns, styles and forms in decoration. You can save your house of whiteness and have it painted in colors such as sax blue, navy blue and green.
Paint Company Selection
There are many painting companies offering similar services. But the service provided is not the same quality. Therefore, you should choose the right painting company for your painting project which is reliable and cost efficient. First of all, it is recommended to work with a company which works fast and efficiently. After making an appointment with the company on convenient date, the painting company should declare to you the staring and finishing dates. Many factors and the size of the project effects the time need to get completed.
It is important that the painters arrive at the appointment on time and finish it on the promised date. During the painting process, precautions should be taken not to damage the parquets and floors. Professional painting companies provides the necessary paint , supplies and tools to cover the floors and furniture. However, the paint process must be flawless, trace-free.
Before painting, a detailed surface preparation, patching , scuff sanding should be performed . Spot priming or whole surface priming might be needed in some cases. While doing all this, it should be appropriate in terms of painting prices.