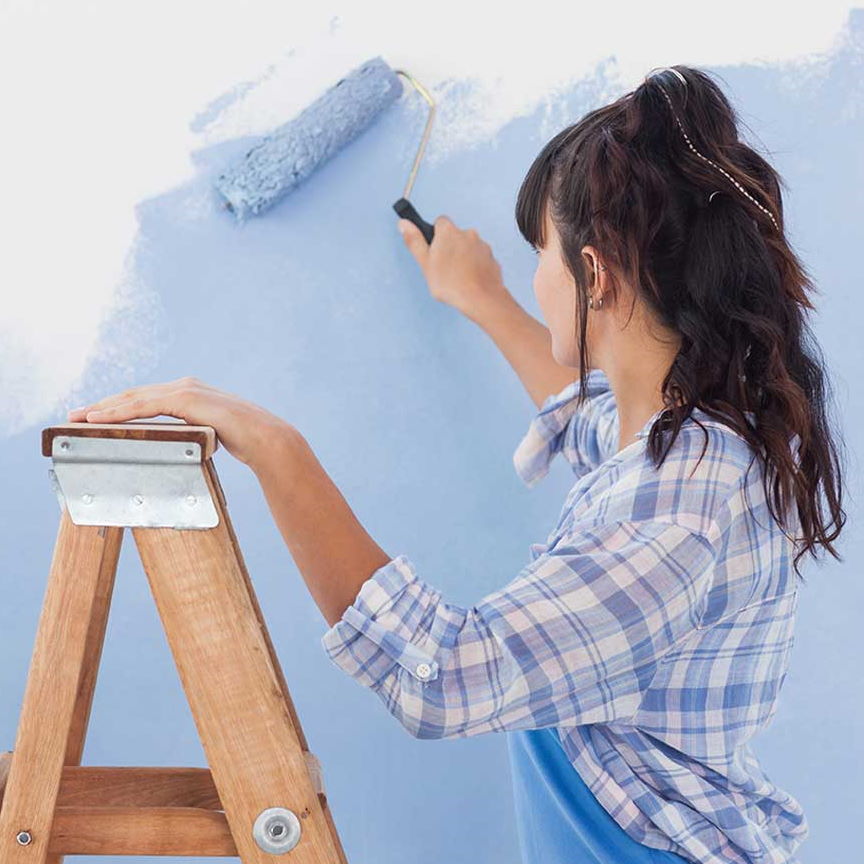 How Can You Prepare / Organize Your Home To Get Painted ?
Getting your home painted will require you to organize your place , it doesn't matter if you do it yourself or hire a professional painting company. Hiring a professional painting company will take the risk out and you will get a professional result. Overall cost of the painting project will be even cheaper than doing it by yourself.
We always recommend hiring a professional painting company rather than doing it yourself. Especially if you have a profession to make a decent living. When you put all the expenses on top , comparing your business loss and the risks you are taking , letting professionals do it is always a better option.
When you get a quote from a painting company , one of the very first questions they will ask is "if the place is furnished / occupied? ". The reason for that , painting a furnished home requires way more preparation. Some of the preparation should be done by the homeowner even if you hire a painting company. We encourage homeowners to take care of the accessories ( china buffet , crystals , religious and personal stuff ). These details are talked about when we provide an on site estimate.
A professional paint crew needs reasonably enough space to perform their job efficiently. It means if your home is over furnished , some of the furniture might be removed out of the work space. If it is a multiple day painting project , it can be a good idea to move some of the furniture to the other parts of the house and when that section is completed , it can be moved back to the original spot.
While getting your home painted , there will be some dust in the environment. We have to do patching , sanding. Those steps will make some dust. Most of the time we operate industrial fans to get the paint dry to apply the coats and let the compound and primer coat dry.
Ceiling painting will require more covering. If we paint only the walls, at least 3 feet of space is needed from each wall. All the furniture , light fixtures , cabinets have to be covered with light duty plastic sheets. Heavy duty masking paper will be used for covering the wood / laminate floors. Masking paper should be attached with masking tape in the edges to make sure not causing an accident.
Let's go over the necessary preparation steps needed one by one. You should make sure which steps are homeowner's responsibility and it is talked and agreed before the painting project starts.
STEP-1 : Securing your personal stuff , belongings , fragile , precious stuff out of the work space. Because when the painters crew arrive , they will start covering and masking and you will have difficulty accessing them.
STEP-2 : Removing the picture frames , religious stuff , crystals from the walls. You can also remove the unwanted screws , nails , shelves so the painters can patch the unwanted holes in the walls.
STEP-3 : Disconnecting power outlets , TV hangers , removing plug plates (if you will not replace them with new ones, you can soak and clean before installing them back)
STEP-4 : Moving unnecessary small furniture out of the space ( chairs , night tables , etc..)
STEP-5 : Removing curtains , blinds ( if you are keeping them , painters can paint around)
STEP-6 : Organizing big furniture in the middle ( if you don't feel comfortable doing it, you should ask painters crew to do that without scratching the floor or hurting their back)
STEP-7 : Don't turn off your heaters or A/C ( depends on the season) . Paint needs a certain temperature and moisture level in the working environment to dry properly. We have been using environmentally friendly ZeroVOC products so you can start using the space right after painting is done
STEP-8 : Don't mop the floor overnight if the baseboards are painted. Trim paint requires more time to dry / cure. It is sensitive and can easily scratch.
STEP-9 : Prepare the new plug plates or clean the original plug plates to get them installed back.
We principally go through this to do list when we make the estimate to share the duties with the homeowner. Majority of the customers are not aware that organizing a place for getting painted has many steps. A well planned project goes smoothly and on time. It is not realistic to expect a homeowner to know what kind of working environment a professional painters crew need to perform their work efficiently.
We are always co-operative and trying to deliver a smooth and well done painting project. Working in a well organized house with enough free space will make us avoid accidents too.
C&S Painting has been serving GTA ( Greater Toronto Area ) since 2000. We directly hire highly skilled professional painters , fully insured and WSIB registered. We do the work and never subcontract. We are sure about our competitive prices and quality. Every painting project comes with a 2 years warranty on labor.
Please call / message us for a free , no obligation estimate.