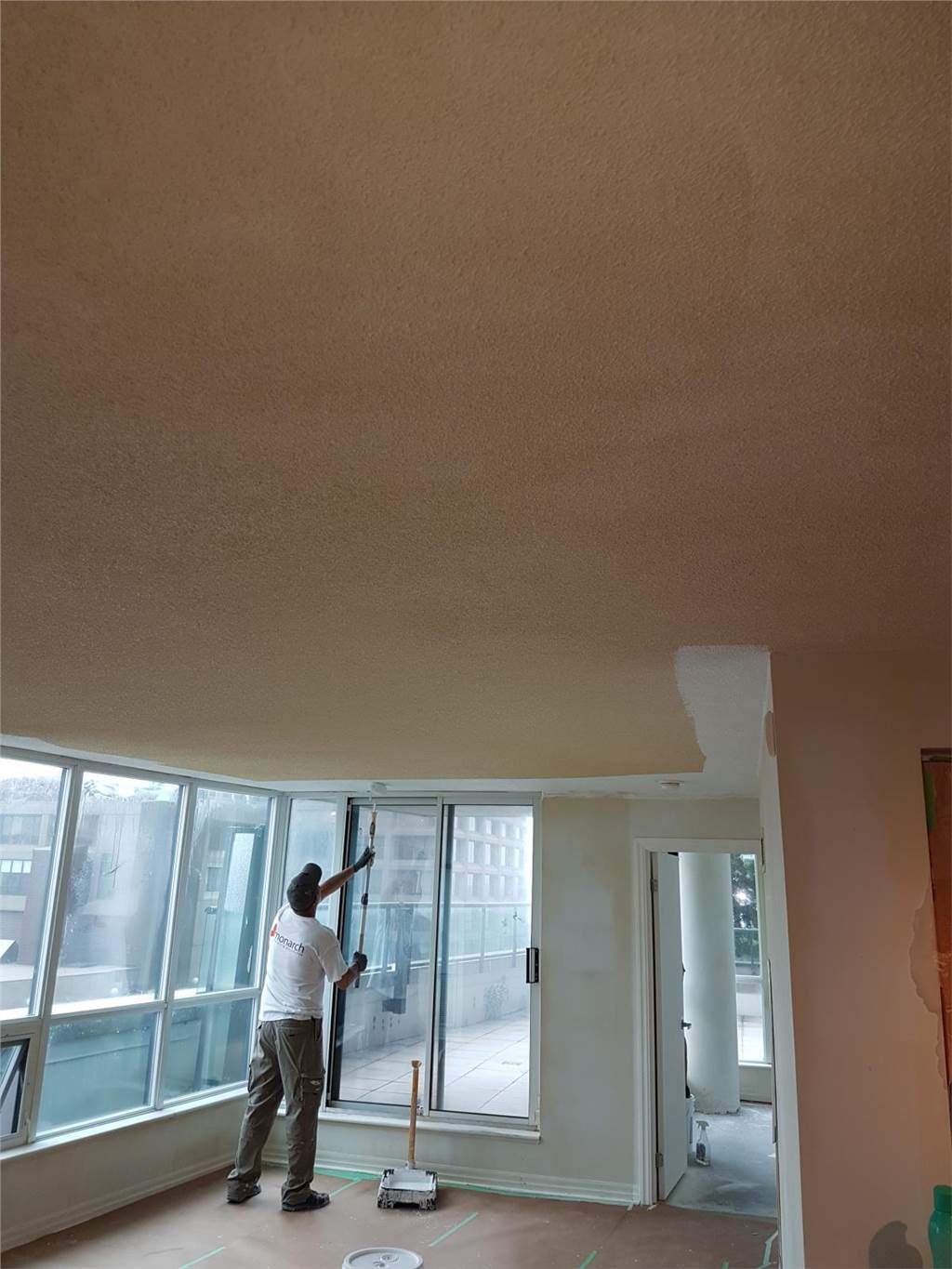 Popcorn Ceiling Removal
Popcorn ceiling has been used to hide the imperfections in the house and condominium ceilings and it helps home builders to cut from the cost. Spraying ceiling popcorn is a quick and cost efficient solution in subdivision homes.
Most of the homeowners don't like popcorn ceilings and it gives an outdated look. If you have a leakage from the upstairs bathroom , it will damage the popcorn texture and it is almost impossible to fix without being noticeable. When you experience water damage in a popcorn ceiling or ridding of the outdated look , it is time for popcorn ceiling removal.
Hiring a professional painting company is highly recommended because popcorn ceiling removal has many technical details. It is a messy process and requires a serious masking job to keep the surroundings clean and splash free.
There are a couple different methods to remove popcorn ceilings with least possible damage. Scraping popcorn ceiling requires experience and professional tools. If it is not done nicely , it will be difficult to smoothen and plaster the uneven surface. When popcorn texture is removed , many surface issues will be noticeable such as bad joints , rough and uneven areas.
Sanding the ceiling surface with 100 grit sandpaper first will help to remove unwanted material and smoothen the surface. It won't be enough to paint over the surface. At least a couple layers of plastering has to be applied and sanded between each layer to achieve a smooth enough and paintable surface.
Before going ahead and removing the popcorn ceiling texture an inspection should be done. Because removing popcorn ceiling with paint will be way more difficult than you think.
It is easy to figure out if your popcorn ceiling has ever been painted. You can rub your hand against the surface and if it marks your hand means it hasn't been painted. Some tools has been in the market for popcorn ceiling texture removal. The sound of removing popcorn ceiling tool is attractive but it is only a small part of the project. The important part is plastering the uneven surface then sanding and smoothing to hide the imperfections.
If you find it too complicated and want to paint over the popcorn ceiling , you should follow these steps. Using wrong paint or skipping a necessary step will cause you to ruin the popcorn texture. There are a couple important necessary steps for popcorn ceiling painting.
If it will be the first time your popcorn ceiling texture is getting painted, sealing the surface with a water based clear sealer is recommended. Waiting each coat to dry completely between the coats is highly recommended. Agt least one coat clear sealer then 2 coats of good quality ceiling paint will cover the texture evenly.
If you have water damaged areas in the popcorn ceiling, you need to treat the water damaged spot with shellac primer to avoid bleeding over the finish. You can read the articles about it in our Blog section.
C&S Painting has been offering popcorn removal services for competitive rates. Please give us a call for a free on site quotation.