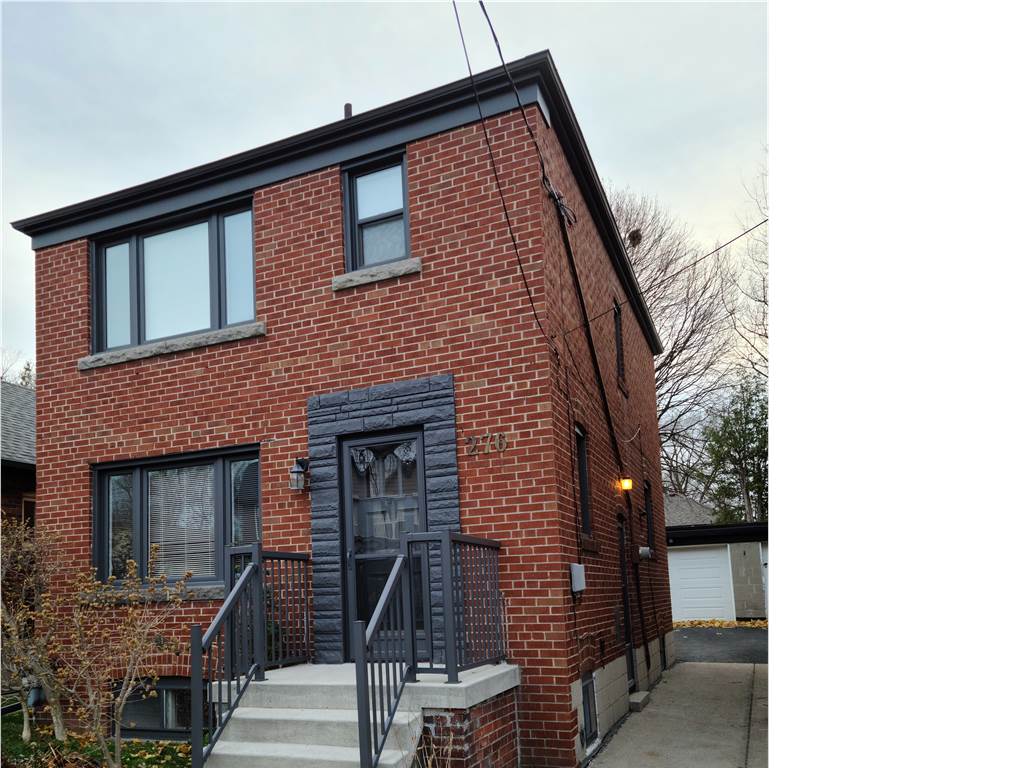 Should I Paint My House Exterior Brick Surface? Exterior Brick Painting Toronto
Recent years, getting exterior painted in certain colors became very popular. Most of the house exteriors even many commercial buildings got painted commonly used dark colors such as charcoal, dark gray shades. 9 out of 10 exterior painting projects are done with dark charcoal colors in Toronto area to change the look, some exteriors getting painted for a quick cover up and a cheap face-lift.
It is better to approach to the subject , what the real intention / expectation is. We mostly observed many exterior brick painting done over original red brick surface. Covering up original red brick color is a big and revolutianary decision. Because it will change the authentic look of brick and when it is done , no chance to take a step back. It will be a done deal forever , yes it can be painted again but no chance to rid off the paint on the surface anymore.
When we receive a call for from a home owner about painting over the original brick surface, principally we warned the home owner about it. Because it is also related with reducing or increasing the value of the house. If an exterior brick surface of a house painted , the next buyer might belive there was issues with brick and covered up with painting. In Toronto downtown core many old buildings has heavily damaged , weared and teared brick exterior. When the home owners start seeing many exteriors painted with trendy colors in the neighborhood, they can make up their mind easily by seeing them. If it is stucco , siding or aged brick surface easier to make up their mind for this big transition. Hesitation of getting house value down is weaker possibility in these cases. When it comes to painting over never original brick surfaces , it is a harder decision. Many times we find home owners too brave about it. After exterior painting done, the results were stunning. Even the way better than our expectation. Using the high quality good brandname 100% acrylic exterior paint or masonry paint , priming the surface with the strong primer if necessary , possibly using masonry paint is the important factors to get a good result.The method of applying the exterior paint ( by spraying , rolling , brush) is different for each case.
We make up our mind after taking a closer look to the surface which method will be the best option and cost efficient way with the advantage of those many years experience. There are several cases , our exterior work has been lasting around 20 years even in some disaster recovery cases. Using the right paint , materials ( caulking, exterior compound , cellulosic filler , etc.) , doing necessary preparation and priming is the important necessary steps of a successful exterior painting project.
If the exterior painting is not done under right weather conditions , with right application method without using good quality exterior paint , it will be a ngihtmare in the future. When it is done peeling and bubbling , it will be very difficult to fix and re-doing it. If you avoid the problem , it will turn into a disaster recovery case in long run. That's why hiring a professional will take the risk out. C&S Painting is offering 2 years warranty on every exterior project. The high quality exterior paint has 15 years manufacturer warranty on it. We have many successful exterior painting projects done and they still look like brandnew after those many years. We are open to share those addresses you can pass by and observe the actual condition.
Exterior painting is not something you can take a chance to go with a non-professional painting company. Because if it is not done right , the consequences might be worse than expected.
Making our deals directly with property owners, not working as a sub-contractor , not being a franchised company and hiring professional ( mostly second generation painters), using the high performance high technology equipments ( sprayers, aerolifts, supplies) giving us an opportunity to offer lowest possible cost for a high end result.
Our company is fully insured , bonded and WSIB registered. When you hire us for a project , it takes the risk out for you. Please don't hesitate to call us when you have a painting project even if you have other quotations on hand. We are open to eleborate and explain the technical details so we will be offering a better deal than other professional painting companies.